This covers sole purpose is to keep is to keep leaves and debris out of the pool when not in use. This is a mesh cover that is made with grommets in the hem spaced about every 24" on all 4 sides.
NOTE: This is not a safety cover style and will not support the weight of children or pets.
Go to Request Quote and Submit your information along with the pool shape/design, pool dimensions, stair and spa dimensions, and color.
A Zamzow Customer Service Representative will respond back to you as soon as possible with information about your request.
We also offer Pool Cover Repair Services at both locations and can provide On-Site Measuring for new and replacement covers if needed.
Note: Zamzow Mfg. Co. Inc. does not install covers.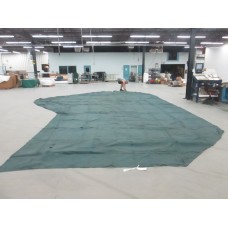 Pool Debris Cover - Mesh Grommets on the hem all sides. Normally attached by rubber straps to concr..
Showing 1 to 1 of 1 (1 Pages)